Hola,
Yo soy fijo discontinuo y me esposa temporal, creéis que me darán hipoteca? El problema que estamos teniendo es que ya nos aumentaron a 600€ el alquiler (en una casa en Palma de Mallorca) y ahora nos avisaron que la próxima renovación serán 750€ me parece una locura. Ahora estamos mirando pisos tenemos para los gastos pero nos da miedo la tasación.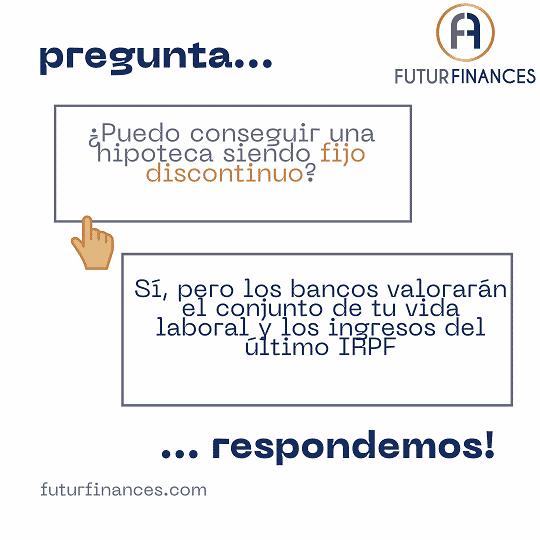 Si quieres que un intermediario hipotecario estudie las posibilidades de conseguir financiación siendo fijo discontinuo, rellena el siguiente formulario, sin compromiso:
(Visited 3,279 times, 1 visits today)
Para los fijos discontinuos que lleguen a Futur Finances buscando información sobre las mejores opciones a su alcance, unas pautas que creo les pueden ser de ayuda:
En teoría, un fijo discontinuo tiene la misma estabilidad laboral que un indefinido normal. Sin embargo, y más después de la última reforma laboral que generaliza la figura en toda España, los bancos no lo suelen valorar igual. Van a mirar con más atención tu vida laboral, el tipo de contrato que tienes, su antigüedad, la empresa con la que trabajas, etc.
Van a poner más pegas al cómputo de tus ingresos. Van a estudiar los ingresos de tu último IRPF presentado, las nóminas mensuales, etc. Como mejor montado lleves el expediente de solicitud de financiación, mejor.
Si no trabajas la mayoría de meses o los meses trabajados varían mucho de temporada a temporada, es muy posible que las entidades financieras te pidan avalistas.
En la prelación de mejores a peores perfiles buscados por la banca a la hora de estudiar una hipoteca, y por tanto, de mejores a peores condiciones ofrecidas, estarían: funcionarios, indefinidos, fijos discontinuos, autónomos y temporales.
Espero que estas ideas os sirvan de guía a la hora de pedir directamente la hipoteca al banco o contratando los servicios de un broker hipotecario.
(Visited 1 times, 1 visits today)
You are viewing 1 out of 2 answers, click here to view all answers.