Tenía la casa tasada y el 80% del valor me bastaba para la hipoteca 100% + gastos. Ahora me dice la inmobiliaria que ING ha cambiado de repente de política y solo me da el 100%, que he de poner los gastos. Alguien sabe si es verdad?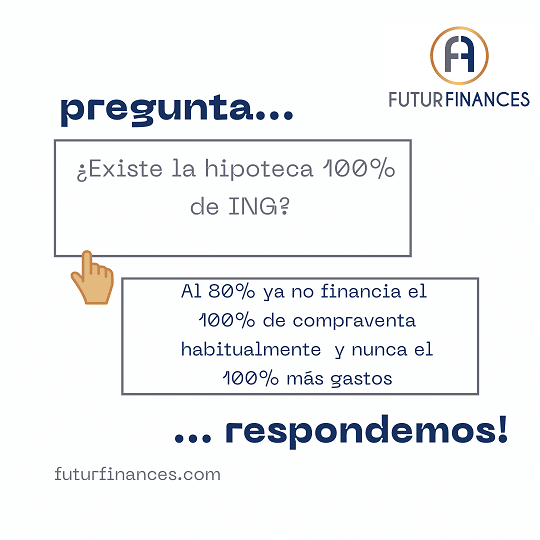 ING ha sido un banco muy competitivo en tiempos pasados, pero a partir de la llegada de los intereses negativos y la batalla por las hipotecas a tipo fijo, que ING empezó tarde y mal, ha dejado de ser la referencia en hipotecas baratas del mercado. Llegó a financiar el 100% de compraventa + gastos, si al 80% la tasación bastaba, si bien cambió esta política a partir de mayo de 2018. En las respuestas de expertos vas a ver cómo va evolucionando la oferta de préstamos hipotecarios de ING y otras alternativas. Si quieres que un profesional de la intermediación hipotecaria estudie si puede mejorar las condiciones que te han ofrecido los bancos, deja tus datos de contacto:
(Visited 90,333 times, 1 visits today)
A principios de junio de 2022 ING mantiene las condiciones de sus hipotecas que tenía:
Hipoteca variable: Euribor + 0,79% (1,64% TAE) y para los que no acepten sus seguros, un Euribor + 1,59% (1,76% TAE variable).
Hipoteca mixta: 1,90% nominal los primeros 10 años y Euribor + 0,79% en adelante, aceptando vinculación. TAE variable de 2,56%. 2,70% nominal primeros 10 años y Euribor + 1,59% en adelante si no queremos sus seguros de vida y hogar. 2,73% TAE variable.
Hipoteca fija: 2,55% nominal (3,20% TAE) con vinculación, 3,35% nominal (3,40% TAE) sin vincularnos.
Ver condiciones en ING.
ING hace tiempo que ha dejado de ser la entidad financiera más competitiva en tipos variables y, en mi opinión, nunca lo ha sido en tipos fijos.
Si quieres conocer las mejores condiciones para funcionarios al 100% de compraventa mediante la gestión de los brokers de hipotecas seleccionados por Futur Finances:
A partir de un tipo fijo nominal del 1,00% a 30 años (TAE del 1,677%).
A partir de un tipo variable de Euribor + 0,49% (TAE variable del 1,192%) a 30 años.
Si quieres información personalizada, sin compromiso, por parte del broker de hipotecas, rellena este formulario.
(Visited 1 times, 1 visits today)
You are viewing 1 out of 24 answers, click here to view all answers.